Tips on Renting a Party Bus Limo in Oakland County, MI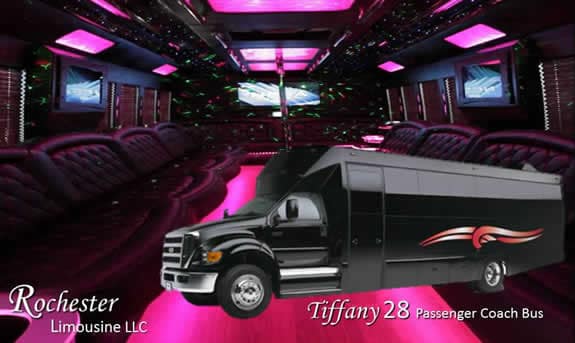 Tips on Renting a Party Bus Limo in Oakland County, MI
Why take a taxi cab or shuttle to your event when you could get there in a luxurious Limo or Tiffany Party Bus? Rochester Limousine has a large selection of party bus limos  to choose from to make your evening out even more fabulous. If it is your very first time using a limo service , be sure to check out our tips on renting a party bus limo in Oakland County.
Vehicles and Number of Passengers
Prior to deciding on your party bus, you should know exactly how many people will be in your group. Rochester Limousine has party buses to fit anywhere from 14 passengers up to 32 passengers. We also have stretch limousines, chauffeured SUVs and luxry sedans. After you know the total number of passengers you'll have, you might want to consider your budget allowed. If you are wishing to save a little money, you are best choosing a bigger party bus limo and distributing the expenses between passengers.
Examine the Party Limo Before You Reserve It
Look at the party bus  in person. You may be thinking that once you've seen one limousine you have seen all of them however this isn't really true! You need to have a look at the condition of the exact party bus you will be riding in and also the amount of miles on the party bus. You also need to examine the cleanliness of the limousine interior.
At Rochester Limousine, we invite you to stop by and have a look at our fleet of party bus  limos in our 10,000 sq ft, indoor, heated showroom.
Reserve Your Party Bus Limo as Soon as Possible
With springtime just around the corner, we're approaching a very busy time for limousine companies. Not only are there weddings in spring, there are prom reservations, and bachelor/bachelorette parties. Plus with warmer temperatures comes outdoor sporting events, outdoor concerts and just more events in general. At this time of year, an Oakland County limousine company could have their whole entire fleet scheduled! This is why it is important to plan ahead and reserve your party bus limo months before hand.
Read the Fine Print
Make sure that you get all the details on paper and look over your contract carefully. The contract should address all of the following details:
Pick-up and drop off schedules for passengers
Year, make, and model of the limo
Total cost of the limo
Downpayment required
Cancellation policy and charges
At Rochester Limousine, our transportation specialists are available 24 hours a day to address any concerns you might have about your contract.
Call and Verify Your Party Bus
At least 2 weeks leading up to your big event contact one of our reservation specialists to make sure that we have recorded each of the important details about your upcoming event. Rochester Limousine will also call you closer to your event to confirm your itinerary.
Tips on Renting a Party Bus Limo in Oakland County, MI
Rochester Limousine, LLC is your place for party bus limo rental in Oakland County. Our experience in the Oakland County area helps us prevent any traffic or other events that could disrupt your transportation. Whether you are having a bachelorette/bachelor party, or you need transportation to a sporting event, we have a large selection of party bus limos for your event. For more information or to make a reservation, call 248-289-6665.
Rent a Party Bus Limo in Oakland County: 248-289-6665