How to Pick the Best Metro Detroit Party Bus Service
How to Pick the Best Metro Detroit Party Bus Service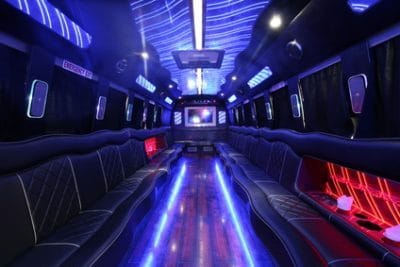 When you are in charge of putting together an event for a larger group of people, it can be easy to get overwhelmed. Whether you are coordinating an outing to a sporting event, a wedding party, or even just a bar crawl, there are many steps to take and decisions to make. Whether it's where to head for the evening or what to serve as the appetizer, there is no decision to be overlooked! When it comes to transportation for your event, there is really only one choice to make: which metro Detroit party bus service should you use?
Choosing which party bus service to hire can seem like a tough task but it doesn't have to be! By evaluating the options according to a few key characteristics, you can be at your decision in no time! To help you figure out just how to pick the perfect party bus rental company for you, look for a company that meets the following standards:
Plenty of Size Options
Even though you may think you know just how many people you will have at your event far ahead of time, plans can change quickly. By working with a party bus rental company that has party buses of varying sizes, you can do your best to find just the right sized party bus no matter what size your group is!
A Long History of Success
When you are evaluating different options for your party bus rental, make sure to choose a company that has a successful track record in the metro Detroit area. By working with a party bus rental company who has experience in the area, you can rest assured that your driver knows where they are headed and can avoid any common traffic pitfalls or watch out for construction. With this in mind, you can pay less attention to each and every turn your driver is making and focus more on having a great time!
Professional Drivers
This may seem like a no brainer but it is very important to make sure the party bus rental company that you choose has professionally trained and licensed drivers. By making sure you know the person behind the wheel has been trained and licensed to drive your group, you can just sit back, relax, and enjoy the ride!
An Updated Fleet
If you are like most people, you don't spend too much time on party buses. As you can think of this outing as a treat, you want to make sure it's as nice as possible! By choosing a party bus rental company with an updated fleet, you can look forward to having a comfortable and luxurious party bus outfitted with the most up-to-date accessories and technology.
I Want a Party Bus From The Best Metro Detroit Party Bus Service!
These are just a few things to look out for when choosing a party bus rental company for your next metro Detroit outing. To get in touch with a metro Detroit party bus rental company that checks all the boxes, get a FREE QUOTE on a Party Bus Rental today!
Categories:
Detroit Party Bus Rental