Need to Rent a Warren Party Bus for Your Wedding Party?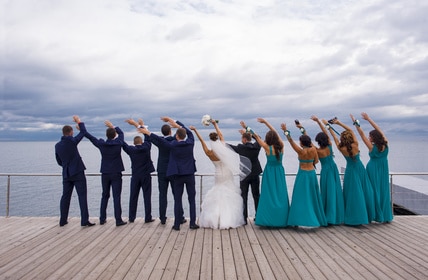 When you're finished creating the plans for your perfect wedding day, most people immediately begin to think of ways in which things could run amok. One of the biggest headaches is making sure that important people show up on time.
One of the things that can hold up a wedding is a member of your wedding party not showing up on time. If they don't show up or show up very late, it can often postpone the beginning of the entire ceremony.
In our modern culture there tends to be more people that are late than there are people who are on time. If you are one of the folks who appreciate punctuality and want your wedding to begin on time, it's a good idea to rent a Warren party bus for transporting your entire wedding party.
Before the Ceremony
Hiring a party bus and driver is one way to insure that people arrive on time to your ceremony. By providing the transportation you can ensure that your wedding party is where you need them to be at the beginning of your wedding—which is by your side.
After the Ceremony
The party bus serves as a focal point after the ceremony as well. After all the wedding photos are taken, the wedding party members can go to the reception via the party bus. If there's a little partying on the party bus on the way to the reception, who cares? That's what the party bus is for and it's the purpose of your wedding day as well—to celebrate your wedding by having a really great time.
After the Reception
When the party is over, the party bus becomes a way for you to be certain that the members of your wedding party are being taken care of. No matter how much they have danced and partied, they'll be able to make it home safely on the party bus.
At times like these, having a hired driver is the best amenity in the world. And if you have hired a limousine for the people in your wedding party, you've not only given them the gift of a safe ride home, you've also shown them just how much they mean to you.
Which Party Bus Works Best?
The type of party bus you choose is usually dependent upon size. The largest of the party buses can hold as many as 32 people and some of the smallest have a maximum capacity of 10. You can also choose the type of party bus depending on the amenities offered.
Although all the party buses have full bars, some provide multiple television screens, the best in mood and effects lighting, and superb sound systems. Your wedding party members can be entertained by all of those features, and if they get hungry before the reception, they can munch on appetizers and snacks.
Rent a Warren Party Bus from Rochester Limousine
If you'd like to provide an unforgettable experience for your wedding party while at the same time simplifying and streamlining the plans for your wedding, rent a Warren party bus for everyone in your wedding party from Rochester Limousine. You'll be so glad you did!
Categories:
Wedding Limo Bus