Make Your Utica Senior Party Unforgettable with a Party Bus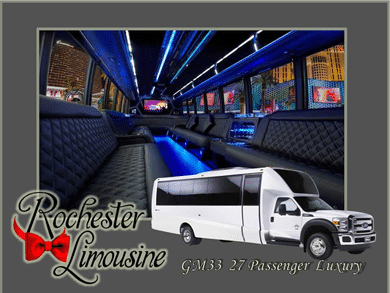 The school year is coming to an end very quickly, and seniors are getting visibly excited. College is on the way, and their high school careers are finishing up. This is an incredible time for any Utica senior, and they will want to celebrate in a big way. What bigger way is there than by hiring a party bus for the grad party?
Graduating high school is a big deal, and the Utica senior party is a great final send off. So make the night memorable by hiring a party bus to handle the driving.
Easy Transportation
Most often, high school students will try to drive themselves to the event if they have a car. Taking their date with them is important, and having your own car can play a big role in status at high school. That being said, parking can be a real nightmare if every student drives to the grad party. Instead of clogging up the parking lot, consider hiring a party bus to drive your child and their friends to the party. Parking won't be an issue and your graduate won't have to waste precious party time since the party bus will pick them up and drop them off at the front door.
Safe Transportation
Sometimes, seniors will indulge in alcohol at or before a grad party. Not always, but it's been known to happen. In case it does, it's nice to have a reliable adult there to ensure your child's safety. With a party bus taking care of the driving, no one has to worry about potentially driving home under the influence and causing an accident on such a special night. It's better to be safe than sorry, and a party bus is one such way to be safe.
Comfortable Ride
If your child has a few friends or a bunch, cramming into cars can be a little tricky. Everyone will be wearing nice clothing most likely, and typical high school vehicles can't take more than 2 or 3 people at a time. If your child would love a comfortable ride that makes them feel like the honorable guest they are, renting a party bus is the perfect choice. With vehicles ranging from 12 to 30 people, and plush leather interior, space and a fun time will never be in short supply.
Affordable
Utica senior high school students tend to not have much extra cash, but always want to look amazing. With a low amount of income – even with a job – it can be tough to pull off certain appearances. However, if you are looking for high visibility at a bargain rate, then a party bus is the perfect solution. The buses run at a flat rate plus tip, which can be split evenly between the kids riding along. Let's say the total comes to $150 with tip. If there are 10 seniors riding on the bus, that's only $15 a person. That's a great deal for any senior trying to save for college.
Give your hard-working graduate an amazing experience at their Utica senior party that gives them the special attention they deserve. Contact Detroit Party Bus today to book the party bus before it's too late.
Categories:
Party Bus Rental