Consider a Troy Limo Service When Planning for the Holiday's Festivities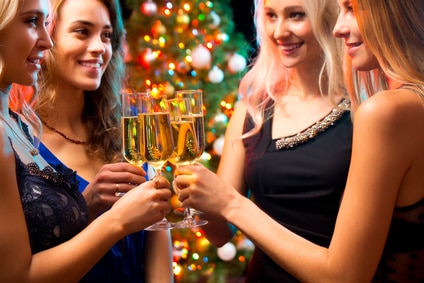 Before you know it, the most wonderful time of the year will be here in full swing. It seems that once again another year has come and gone and here we are making our plans for the holiday season. If you have friends and family coming into the Metro Detroit area, it's a great chance to show them all that our beautiful city has to offer! While you may not venture downtown too often, the holiday season is a great time to do so. With all the holiday decorations on display throughout the city, you may even be surprised yourself! With countless plays, concerts, and sporting events happening around the holidays, you won't find yourself without something fun and exciting to do. With all the excitement, it's important not to forget about the logistics of the celebrations. Why not reserve Troy limo service?
With a holiday limousine or party bus, you can take the stress away from making transportation plans and leave it to the professionals! If renting out your own limousine or party bus hadn't crossed your mind yet, here are a few things to get you up to speed on how great it can be!
1. About as Comfortable as it Gets
If you've ever ridden in a limousine or party bus, you probably already know it doesn't get much more comfortable when it comes to being on the road. If this will be your first time in a limousine or party bus, just imagine having your living room sofa on wheels! Well maybe not really, but they are some of the most comfortable and luxurious automobiles available. No one will be cramped for space and you'll be able to enjoy each other's company just as if you were sitting around the kitchen table.
2. You Call the Shots
With  you are in charge of the schedule and pickup/drop-off plans. Just tell your driver when and where you want to be picked up, and the rest is up to the professionals! If you are heading to the Joe Louis arena or are catching a play at the Fox Theatre, you will feel like a VIP as you are dropped off right in front of the building. When it's time to head home, or maybe grab a night cap or two, you'll be picked up right on time and be off to where you want to go!
3. The Safe Route
When you have a professional chauffeur you can count on, you won't have to worry about anyone in your group getting behind the wheel. This will help you and your group to focus on what really matters – enjoying your time together! Aside from keeping you off the road, you can be confident your chauffeur will be properly trained and licensed for the vehicle you choose.
Reserve a Troy Limo Bus for the Holiday Season
With the holidays creeping up faster and faster, now is the time to reserve your Troy limo service! Contact Rochester Limousine today to learn how!
Call Rochester Limousine: 248.289.6665
Categories:
Limo Rental