Reserve a St Clair Shores Party Bus for Your Bachelorette Party
3 Reasons Why You Need a Party Bus for Your Bachelorette Party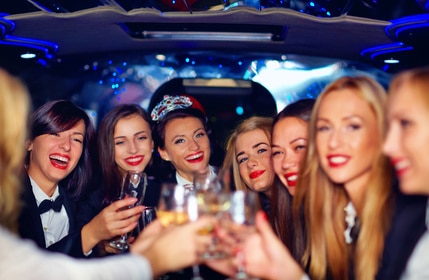 If you or one of your close friends is getting ready to tie the knot, you undoubtedly have quite a few things on your mind in terms of what needs to get done before the big day. With all the stress that can surround planning such a life changing event, it's important you don't forget to have some fun. A great way to take your mind off the details of the wedding planning is to focus on one of the most important events before the wedding – the bachelorette party! If you still haven't figured out all the details of how to send your bride to be off the right way, it's time to get moving! A great way to make sure everyone has the best time they can before the special day is to rent out a party bus for a night on the town! Along with keeping things easy and flexible on the big night, a party bus can give you and the girls the following benefits.
1. You Own the Night
While it is usually helpful to have some sort of plan before heading out in your party bus for the night, you are in charge. If something changes last minute or people want to hit up that new hot dance club downtown instead of the sports bar you've all been to 200 times, the choice is yours! After all, the night is all about having as much fun as possible to make sure you're flexible enough to follow the fun!
2. No Driving Required
Odds are you probably don't want to be the one driving a 20-person party bus with your closest friends on it. The good news is you don't have to! Not only does this keep everyone else on the road safe, you also don't have to worry about everyone driving themselves from bar to bar after having some drinks at the first stop. You won't have to worry about driving yourself, and you also won't have to think about getting individual cabs and worrying about who might get lost along the way. With a St Clair Shores party bus, you are guaranteed to be riding in style all night long!
3. The Party Won't Stop
There's a reason a party bus isn't just called a bus. Once you're out of the club and on to the next stop, you won't lose any party time as the party just continues on the road! You can play your favorite songs, munch on snacks, play fun games, and enjoy adult beverages. With the big day coming up, you have no time to waste so make sure to enjoy every moment of your last big night out.
Ready to Book Your St Clair Shores Party Bus?
As these are just a few of the ways a party bus can make your bachelorette party extra special, it's time to learn more and see how you can book your own St Clair Shores party bus. If you are in the Metro Detroit area, look no further than Rochester Limousine. They know they area so you're sure to be riding with the pros on your big night!
Call 248.289.6665 to Reserve Your Party Bus
Categories:
Party Bus Rental