Reserve a Waterford Limo Bus to Take You Downtown Detroit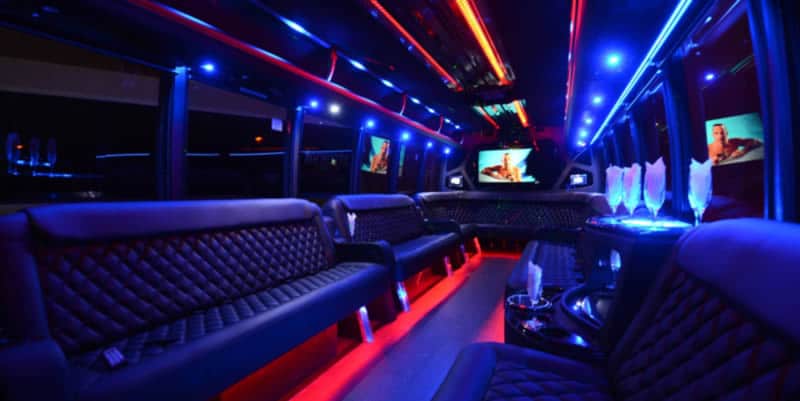 Arrive at Your Downtown Detroit Show in Style with a Party Bus
Start the New Year off right by getting out of your routine and heading downtown to see a show. To make your night extra special, why not check out one of Detroit's many new bars and restaurants before the doors of your show open? With the holidays and New Year behind us, now is the perfect time to gather your friends and family and head downtown for the night. There are countless events for fans of all ages and tastes.
If you really want to take things to the next level on your night out, get you and your crew a Waterford limo bus for the evening. Getting a limo bus will allow you to really enjoy the city for the night as you won't have to worry about driving yourselves or finding a last minute ride to the city or back home once you're ready to call it a night. If you've never been in a limo bus before, you're in for a treat. Consider getting your own chauffeured limo bus to any of the following events taking place this winter in Downtown Detroit.
1. See Chris Tucker Live at the Fox Theatre
Why not start the new year off with some laughs with your friends? If that sounds like a great way to kick things off, look no further than seeing Chris Tucker at the Fox Theatre on January 21st at 8pm. When you have a Waterford limo bus bringing you to and from the show, you'll be able to enjoy your drive into the city and take in all the sights of a winter's night in Detroit. If the mood is right, it may also be a great idea to bring a case of your favorite adult beverage to enjoy on your way into the city.
2. More into Music? Listen to Kings of Leon Live
If a comedy show isn't your idea of a great night out, seeing Kings of Leon live might be more up your alley. They'll be playing at the Fox Theatre on January 22nd at 7:30pm. With your own limo bus rented out for the night, you'll be able to play your favorite Kings of Leon songs on your way into the city to get you ready for the show. Just remember to make your pre-concert playlist before you get onto the bus!
3. What About the Kids? How About Sesame Street Live
If you have some younger children in the group, Sesame Street Live at the Fox Theatre might be a better fit. They'll be at the Fox Theatre January 26th through February 12th so you have quite a few chances to see the show. The kids in your group will love being able to roam around the limo bus as you make your way to the venue while the adults will be able to catch up before the show!
Ready to Reserve a Waterford Limo Bus
To book your Waterford limo bus for your next downtown adventure, contact Rochester Limousine today!
Call Rochester Limousine: 248.289.6665
Categories:
Party Bus Rental