Reserve a Detroit Limo Bus to Take You Downtown this Winter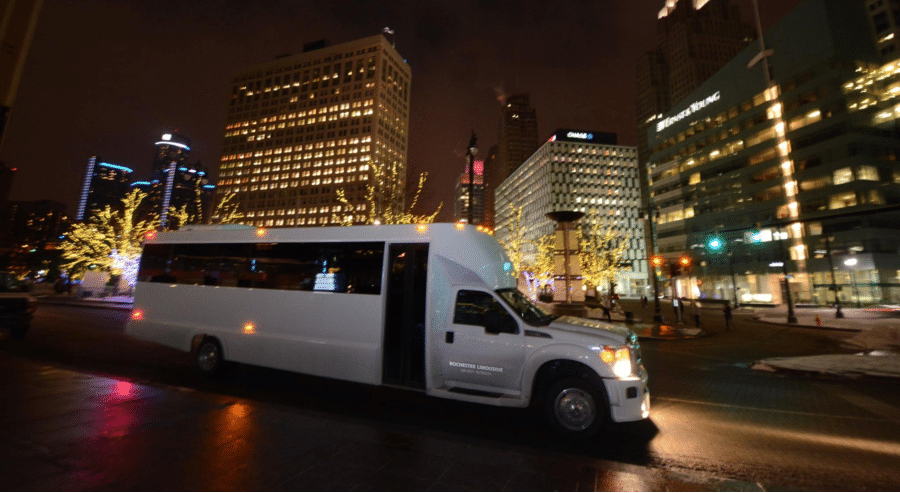 Events You Won't Want to Miss in Downtown Detroit
If you live close to Downtown Detroit, you never have a shortage of fun things to do and great shows and concerts to see. With all the exciting progress that has been happening downtown throughout the recent years, this holiday season is a great opportunity to head downtown and see what all the excitement is about.
A common issue many people face when thinking of heading downtown for the night is the issue of transportation. Without many public transportation options, many people resort to driving themselves or calling a cab company. Luckily for you, there is another way that is not only practical but also tons of fun. Booking a Detroit limo bus is a great way to elevate your fun factor for the evening while guaranteeing you have a safe ride home. If you haven't ever taken your own limousine or party bus downtown, you are in for a treat. With so much going on downtown this winter, take advantage of the opportunity to stay off the roads! These are just a few of the countless events happening this winter in downtown Detroit that would be perfect for a limo bus.
1. MGM Grand Presents: G. Love and the Special Sauce
If you are looking for a great concert to check out this winter, look no further than G. Love and the Special Sauce. Performing on Friday January 20th at the MGM Grand Casino, you will be able to make a whole night of the concert while you take in everything Detroit has to offer. Reserving a Detroit limo bus for the evening will not only make sure you get to the show on time but it will also guarantee you stay off the roads so you can go ahead and enjoy yourself at the show.
2. Experience Mozart Fest at the Detroit Symphony Orchestra
For a more classic concert experience this winter in Downtown Detroit, Mozart Fest at the DSO may be the perfect fit. When you rent out your own limousine for the evening, you will feel like you are the star of the show as the limousine pulls up to the front doors of Orchestra Hall. When the concert comes to an end, you'll have the option of heading to one of your favorite bars downtown or immediately back home.
3. Have a Few Laughs with John Oliver at the Fox Theatre
If you are in the mood for some entertainment but not in the mood for music, consider checking out John Oliver at the Fox Theatre on New Year's Eve at 7pm. If you are a fan of John Oliver's comedy, you will also probably be a fan of the first class service you will enjoy when renting out your own party bus for the evening. With such a high-quality service, you'll wonder why you didn't try it sooner!
Ready to Book Your Detroit Limo Bus?
To reserve a Detroit limo bus for your next downtown adventure, contact Rochester Limousines today!
Call Rochester Limousine: 248.289.6665
Categories:
Party Bus Rental