Celebrate the Holidays in Style with a Pontiac Limo Bus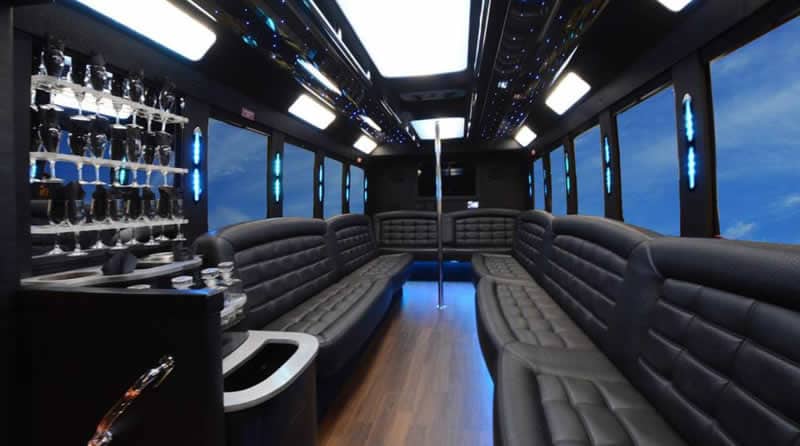 With temperatures dropping and the days getting shorter, it can be easy to just curl up on the couch with a good movie and your beverage of choice and just wait until May when the sun is out again. However, with all that's going on around Detroit this holiday season, you sure would be missing out on some great events. Not only is the city lit up in holiday lights and festive decorations but the ice rink is ready to be skated on and the city center tree is ready for you to be awed by it.
If you want to see a show or a play around Detroit this holiday season, there is no shortage of options there. You can do anything from seeing the Red Wings play at the Joe Louis arena one last time before the new arena opens to seeing a performance at the Fox Theatre. Whatever your entertainment preference is, there is really only one way to get you and your crew downtown for the night. With your own limo bus, you'll be able to see Detroit like you've never seen it before and make sure you are able to enjoy it every step of the way. Take advantage of the following benefits with a Pontiac limo bus.
1. No Worries Transportation
When heading downtown for the night, there are a couple common options. Driving you and your group downtown is by far the simplest but has quite a few downfalls. For one, you have to be responsible for driving and parking your car safely. With all the different areas of Detroit, it can be hard to find the best route and reliable safe parking. Not to mention, you'll have to be very careful about not drinking and driving. You could call a cab, but may be disappointed with the ride quality, an unfriendly driver, and could have quite a wait when you are ready to head home when the night is over. With a limo bus, you eliminate all the stress and worry over driving into the city, finding parking, having to walk miles to your destination, and having to sacrifice fun for safety.
2. Keep Your Group Close
With the limited time you have to spend with your loved ones throughout the holiday season, it's important to make the most of the time you have together. When you have your own limo bus for you and your group, you are able to take time that would be wasted in a cab or in separate cars and turn it into an experience in and of itself. The celebration starts the moment you step inside the limo bus and doesn't stop all night!
3. Stay Safe Around the City
When you contact a professional Pontiac limo bus rental company, you'll know you have a professional driver who is properly licensed and trained. You will also rest assured knowing you'll have a safe vehicle to get you where you want to go. Your driver will also make sure to only drop you off and pick you up in places where you feel safe.
Reserve  a Pontiac Limo Bus
Renting a Pontiac limo bus for your holiday night out couldn't be easier. Contact Rochester Limousine today to see what's available!
Categories:
party bus limos