Looking for a Clarkston Party Bus for Your Bachelor Party?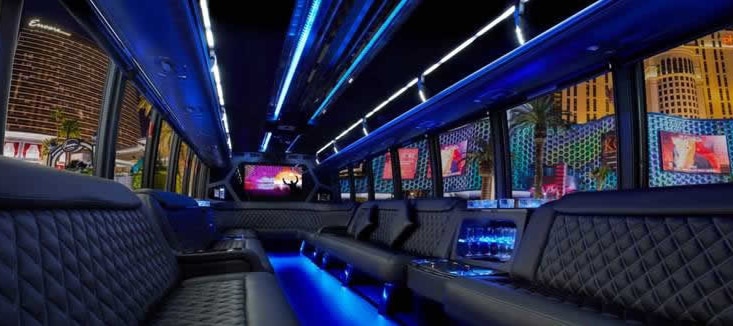 Bachelor parties are made up of all types of celebrations, and the only limitations are the imagination of the party organizers and the personality of the guest of honor, the groom. No matter what type of entertainment is involved, whether its spicy or subdued, using a limousine for transportation during this rite of passage for the groom is a great idea for several reasons.
Let's Stick Together
When a party is in full swing, it's hard to keep track of everyone. Renting a limousine for the evening ensures that everyone can travel together from location to location. If your bachelor party involves travelling from your favorite Clarkston restaurants to your favorite bars and beyond, renting a Chrysler 300 Limousine for 12 passengers or even a Suburban stretch limo for as many as 20 friends and guests not only keeps everyone together but it also keeps the party going.
A Moveable Feast
If you have a large enough vehicle, the limousine itself can become the site of the party. With a well-stocked bar, luxurious seating, soft lighting and a great sound system, a stretch limousine or party bus can provide the best of both worlds–a great environment for a party combined with the ability to travel wherever you'd like to go.
When you host a bachelor party from a limousine, the party can start anywhere and begin at any time. From a visit to a quiet beach with a bonfire to a club downtown, a chauffeur-driven limousine is a great base for your bachelor party as it travels about the city. And the best part about this party-on-the-move? Everyone in your party stays safe as long as the party lasts. That's great for your peace of mind—after all, it's your party and you deserve to have a good time without worrying about your guests.
Getting There in Style
If your bachelor party has a certain style theme, then you will definitely want to rent a limousine for your bachelor party. For instance, if your party has a style-based theme like a Brat Pack theme or 20s gangster theme, you will definitely want to hire a limousine for the evening, and the classier the car, the better the choice for your once-in-a-lifetime event.
The Sky's the Limit
Your bachelor party is your last night out as a bachelor. That's why they're sometimes known as the last gasps of freedom. Because it is your last night out before your married life begins, it's important to make this night one to remember. One of the best ways to remember this evening is to hire a limousine for the entire night.
Clarkston Party Bus for Your Bachelor Party
A hired driver and a limousine not only keeps you and your friends safe, it's also an extremely cool way to travel. Your limousine is a statement of someone who cares enough to travel in class and in style on this last night of bachelor life.
However you choose to celebrate your bachelor party, traveling in a party bus from Rochester Limousine is a great way to keep the party going and to make sure that everyone has a good time, including you!
If you are looking for Clarkston party bus rental, call Rochester Limousine to make a reservation at: 248.289.6665
Categories:
Party Bus Rental