Benefits of Reserving a Metro Detroit Party Bus for Your Event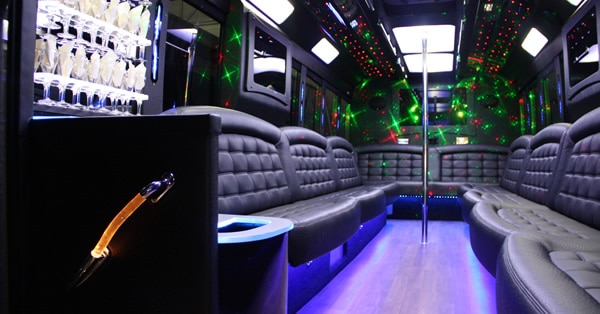 Benefits of Reserving a Metro Detroit Party Bus for Your Event
Whether you're planning a bachelor/bachelorette party, birthday bash, sports event pre-game, or any other type of event, there are many advantages to reserving a Metro Detroit party bus than any other type of transportation. Not only are they incredibly fun, but they also offer practical benefits that protect your safety, and your pocket book as well. A professional party bus rental company can offer different packages to best suit your desired amenities as well as your budget. Win the "best friend award" this year, and choose a party bus for your next special event.
Here are 4 benefits of hiring a party bus for long-lasting fun, laughter, and memories:
1. Convenience for Everyone
It will be much easier for everyone involved if you rent a party bus for your next event, rather than trying to figure out who will be the designated driver. Not only will it be hard to get someone to volunteer for the not-so-desirable position, but it can quickly become a headache when that so-called DD, doesn't stay sober throughout the evening. Make life easier (and more enjoyable) for everyone, and reserve a party bus for your bachelor/bachelorette bonanza, surprise birthday party, or music concert celebration.
2. Endless Entertainment
Party buses don't get their name for no reason; they are designed for endless partying! Many party buses come with full amenities on board, which can include iPod plugins for your favorite music, strobe lights, dance poles, and even a full bar. You won't even need a specific event to take the party bus to, as it can keep everyone entertained all night long! A party bus is just like stepping into a club or bar, without the added frustration in having to find parking, wait in line, and pay for entry.
3. Safer Transportation
A party bus is driven by a professional driver that has undergone training and licensing in the safe transportation of people in a large vehicle. This can bring much peace of mind for everyone involved in the event planning, especially when you know there will be alcohol involved. The driver is also educated in your specific area, so they will be able to easily get you anywhere you'd like to go, and can even recommend hot spots for restaurants and after-hour partying. Don't risk ruining your entire night, and make the safe choice by renting a professional party bus.
4. Ease of Money Pressure
If you're the DD for the special event, it can often be awkward trying to get everyone to pay you for gas for evening's transportation. Since it is not legitimate with any contracts, it's easy for people to blow off contributing their fair share. However, with a party bus, everyone is obligated to pay their share upfront before any booking can be done. This protects the person renting the party bus, and will require no tracking down of due payments later on. It is also economical in that multiple people don't have to drive to multiple spots to make sure everyone in the group remains together at all times. With a party bus, your entire group can be accommodated, which allows everyone to remain together and have fun.
Be sure to rent a party bus for your next special event to ensure that it is fun, safe, and convenient for everyone involved.
Benefits of Reserving a Metro Detroit Party Bus for Your Event
Rochester Limousine is your premier Metro Detroit party bus provider! Our fleet includes the newest limousines, sedans, Hummers, and luxury party buses in the Detroit area.
Contact one of our transportation specialists today at: 248.289.6665
Categories: Party Bus Rental, Uncategorized