4 Reasons to Reserve a Troy Party Bus This Summer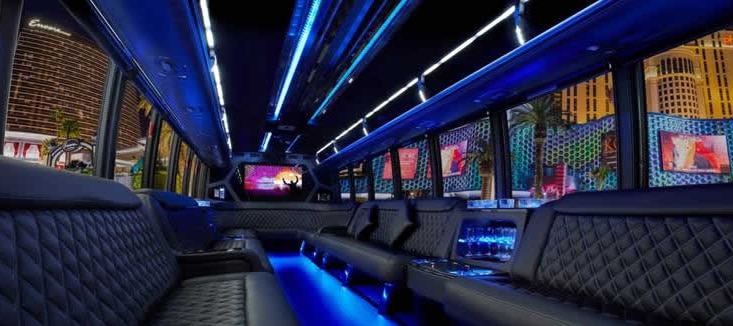 4 Events that Need a Party Bus
It's not everyday that something cool happens in our lives. Most of the time we're stuck behind a desk, but then something extra special happens that requires a celebration. For big events, a big splash must be made. That's why booking a Troy party bus for life's big moments is such a great idea. Nothing makes a bigger entrance than a party bus. Here are a few events that truly require a party bus rental.
Wedding
The bride and groom will be looking their best on their special day, so it's important that they arrive in style as well. Having a party bus bring them to and from the ceremony is a great way to kick off what's sure to be an amazing rest of their lives. What's better is that the entire wedding party will be able to fit in the party bus, making it that much easier for everyone to get to the reception on time.
Bachelor/Bachelorette Party
Before the wedding day, the bride and groom will surely be having a get together of their closest friends for one last hurrah. The bachelor and bachelorette parties will be full of good times, probably some alcohol consumption, and plenty of dancing so having a party bus able to drive everyone around is a great idea. Not only will everyone have enough space, but no one will have to worry about driving during the festivities.
Corporate Events
Each business needs a retreat at some point. Employees need to let loose and kick off the shackles of their desk jobs, and holiday parties and events are just the thing that will get their mind off their jobs for a while. By renting a Troy party bus, you'll be able to move the party goers from place to place easily and as a group, instead of having people drive everywhere. It's also a nice gesture to rent a luxury bus for your employees to show them your appreciation.
Graduation
If it's your son or daughter's graduation, they will be more than ready to kick back and celebrate a monumental achievement. If your new graduate has a few friends that all want to celebrate together, why not pitch for a party bus to drive them to the reception? They've certainly earned a luxury ride after years of hard work in receiving that diploma. Go that extra mile and rent them a party bus to show them that toiling over their books has paid off.
Reserve a Troy Party Bus for Your Next Event
These events are only a few of the things that a party bus could be rented for. For all your party bus rental needs, give Rochester Limousine a call. We provide limousines and party buses in Troy and throughout the Metro Detroit area.  Reserve your party bus limo today!
Call 24-7: 248.289.6665
Categories:
Party Bus Rental