Want the Best in Wedding Day Transportation? Get a Limo or Party Bus
Want the Best in Wedding Day Transportation? Get a Limo or Party Bus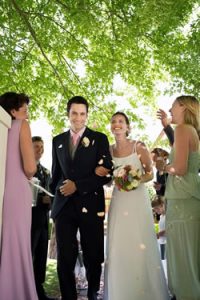 Your wedding day only comes around once so it's best to make the most of it! Even though the planning process can be tiresome at times, having the wedding day of your dreams will certainly be worth all the hard work. Luckily you won't be alone during the planning process! With all the friends and family who will want to be involved in the process, you may feel like you have a small army behind you!
Aside from the people you know personally, you can also enlist the help of wedding planning professionals. By getting the pros to help you out, you can make sure you have the best in all aspects of your wedding, from decorating the room to the catering. To get the best in wedding day transportation, get the help of professionals there, too. By getting your own wedding limousine or party bus, you can ensure that you will have the very best service available when it comes to getting around on your big day. To see just how great having your own limo or party bus on your wedding day can be, check out these benefits!
1. Room for Your Whole Bridal Party
One of the toughest logistical parts of your wedding day is figuring out how everyone will get around during the day. With your own Metro Detroit party bus or limousine rented out for your wedding, you can easily transport your whole wedding party from point A to point B, and everywhere in between. Your professional chauffer can transport you and your bridal party to each venue safely, and will be able to stop for photo opportunities between the ceremony and dinner.
2. On Time Arrival
Your wedding day may end up being one of the most meticulously planned days of your entire life. With no time to spare, you can't worry about whether or not your ride will be there on time! By having your own limousine or party bus as your means of transportation for the day, you can rest assured knowing that you will have the best in all of transportation. Your experienced and knowledgeable driver will know what it takes to have a successful wedding day from a transportation standpoint and will be where you need them to be when you need them to be there!
3. A Place to Relax
While your wedding day will certainly be very hectic, you'll want to enjoy every moment! When you're going from place to place and enjoying your "downtime," you will want to make sure you have a nice and comfortable place to relax. By having your own party bus or limousine, you can always look forward to being able to just stretch out and relax with your bridal party as you spend your time between photos and heading to the reception venue for the party.
I Want More Information on a Party Bus Rental Near Me!
These are just a few of the many reasons to get a limousine or party bus for your upcoming wedding day! For more information about our beautiful fleet of new limos and party buses, or to book your wedding ride, call Rochester Limousine.
Categories:
Party Bus Rental