Keep Things Interesting for Your Troy Bachelorette Party
Keep Things Interesting for Your Troy Bachelorette Party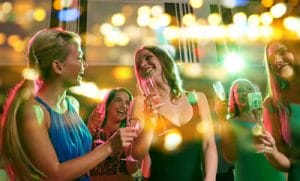 When you have your wedding coming up, it can be hard to keep tabs on everything that needs to be done before the big day arrives. Months before you say your final I do's you will probably be knee deep in wedding planning activities. While some of these can be a ton of fun (cake testing anyone?), some can be more of a drain on your energy like picking through hundreds of tablecloth samples. Even with all the work that needs to be done before your wedding day, there will be the chance for some fun!
As you will soon be a married woman, you need to make sure to make some time for one last night out with the girls before you make your way down the aisle. Having your bachelorette party in Troy is a great way to get all your friends and family together and explore the city! If you haven't quite figured out how you will spend your night out, think about keeping things flexible. When you have your own Troy party bus rented out, you won't be locked in to one location and can move around the city as you like! Having your own party bus in Troy, MI will make sure you get to enjoy the following benefits.
Freedom and Flexibility
Typically, when making plans for a large group of people like a bachelorette party, you need to settle on a location to spend your evening in Troy. When you have your own party bus, this is no longer the case. With your driver waiting right outside wherever you are, you can move around the city of Troy as the mood for the night changes. With your own party bus, you aren't just limited to the city either. You can visit all your favorite suburban bars and clubs in Royal Oak, Ferndale, Birmingham or Rochester with your own party bus!
Plenty of Room
One thing you will certainly need during your bachelorette party is room to roam. With many different party bus size options, you will be able to pick the right bus for your group size making sure you have plenty of space for everyone who is tagging along for the night. Without having to worry about accommodating everyone each time you move from place to place, you can spend more time enjoying your night out with the girls!
Safety First
Having your own Troy party bus with a professionally trained and licensed chauffeur means you will be safe as you make your way from bar to bar throughout the night. With no one getting behind the wheel who shouldn't be, everyone onboard will be able to share in the fun without having to worry. You can also rest assured that your driver will only drop you off in places that you feel comfortable, but you don't even need to leave the party bus to have a good time! With bars on board, strobe lighting, music, and even dance poles, it's not called a party bus for no reason!
For More Information on a Troy Limo or Party Bus Rental for Your Bachelorette Party
Give Rochester Limo a call today at 248.289.6665 to book your own personal Troy limo or party bus for your Bachelorette Party.  FREE TROY LIMO & PARTY BUS RENTAL QUOTE
---
Additional information on Troy Limos from Rochester Limousine.
Categories:
Troy Limo