Top 3 Reasons to Get a Bachelorette Party Bus
Top 3 Reasons to Get a Bachelorette Party Bus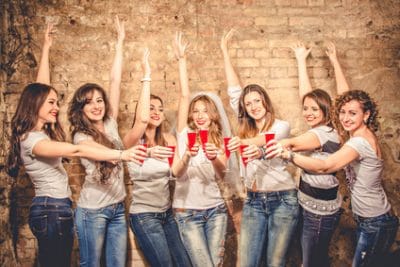 Are you struggling to figure out what to do for your upcoming bachelorette party? With so many different options, it can be difficult to settle on what you think may be the best option for your group. While some people may jet out to Vegas for a weekend full of unspeakable events, others choose to stay more low-key with a nice dinner out in town. If you want something somewhere in the middle, Downtown Detroit has plenty of options for you to enjoy!
In fact, Detroit has so many options, it may be difficult to choose just one! Do you go out to a nice dinner, hit the clubs, or try your luck at the casinos? Even though all of these options have their pros and cons, the best part of all is that now you don't have to choose! By getting your own party bus for the night out, you can make your bachelorette party more about seeing the whole town than just settling on one option! If you haven't really thought about getting your own party bus for the night, here are a few reasons why you may want to give it some serious thought!
Flexibility
Flexibility is number one for a reason! With your own party bus, you can roam around the city as you see fit. If you get to your favorite club downtown and it isn't really where you want to spend the next couple hours, just hop back on your party bus and head off to the next location! With flexibility like this you can make your bachelorette party as unique as you want! On the contrary, if you and your group are enjoying yourselves at the first spot you end up going to, there is no pressure to leave!
Space
Having your own party bus for the night means you certainly won't be low on space! With plenty of different size options, you can make sure you have the right bus for your group. If you want to really make sure you have enough room to do some partying on the bus, get a size bigger than you really need to give everyone a little extra space! When it comes to getting around on your bachelorette party night, no other option gives you the type of space to move around like you have on a personal party bus!
Safety
Even though Detroit has made a ton of progress in recent years in terms of safety and development, it's still best to play it safe as it is with any city. When you have your own party bus, you can rest assured knowing you will have a professional chauffeur behind the wheel who knows their way around Detroit. With this in mind, you won't have to worry about getting dropped off in the wrong area or having to search to find your bus when it's time to head home!
I Want The Best Bachelorette Party Bus Rental Service Near Me In Metro Detroit!
Convinced that a party bus is right for you and your group? Make your reservation today with Rochester Limousine!  We are Detroit's Choice for Bachelorette Party Transportation Rentals!
Categories:
Party Bus Rental