Rent an Oakland County Limo Bus for Your Bachelor Party
Things to Do with a Party Bus On Your Bachelor Party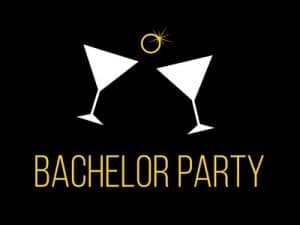 Great friends, good times, a few drinks, and a fun night out. That's what bachelor parties are supposed to be all about. Just one night out with the groom to wreak havoc on Metro Detroit before he heads off into husbandry. If you're in charge of booking everything for a bachelor party, you will want to take the group out to do some cool things for sure. So why not up the ante by renting a party bus for the occasion?
If your bachelor party will be taking place in Oakland County, contact Rochester Limousine to rent a limo bus.  Our buses have roomy interiors with the ability to take as many as 30 people (depending on the model you rent) along for the journey. There's also a sound system, so you'll be able to keep the good times rolling with your own music as the soundtrack.
Bachelor parties don't have to be boring; nor should they be! If you are looking for some ideas on where to take the party, here are a few helpful suggestions.
Paintball Party
When guys get together for a bachelor party, they want to have a few beverages and pal around with the groom. By heading to a paintball shooting arena, the team gets a chance to hit the groom with paint as a loving "Congratulations" present. Be sure to bring a towel or a change of clothes, since paintball can get a little messy. The last thing anyone wants is an extra coat of paint in the party bus!
Casino
Whether you are into gaming or not, the casino is a great place to bring a bachelor party. If nothing else, everyone on the trip can get dressed up for a party with the groom to be. With great food and shows, the casino offers a few different options for the team. And nothing says "high roller" like pulling up to the front door of the casino in a party bus.
Ball Game
If you are looking for a true guys' day out kind of bachelor party, you should hire a party bus to take the fellas out to the ball park for a Tigers game. It's always a party atmosphere at a ball game, and the entire bachelor party squad will be able to enjoy a game without having to worry about driving afterwards.
Pub Crawl
When all else fails, a good old fashioned pub crawl is an excellent way to celebrate your friend's upcoming marriage. Pick out some bars to head out to and our expert chauffeurs will get you there in comfort and style. This is also another case where everyone will be able to get home safely afterwards and no one will be tempted to drive.
Need an Oakland County Limo Bus for Your Bachelor Party?
If you are in need of a party bus to really kick your bachelor party up a notch, call us today! We'd be happy to help you get everything organized so that all you'll have to worry about is making sure the groom has a good time.
Rochester Limousine has been providing  limo buses in Oakland County and the surrounding areas for over 20 years. Contact us today at: 248.289.6665.
Categories:
party bus limos