Heading Downtown Detroit for Some Fun in March? Arrive in Style!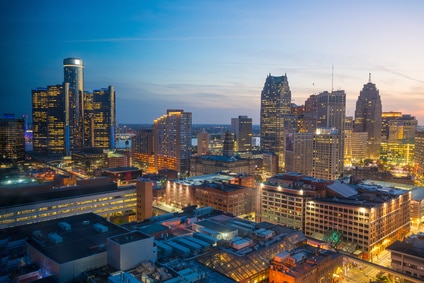 With the city of Detroit making a historic comeback and spring weather on the horizon, now is a great time to plan a day in the city with your crew! There is so much to do and see downtown that there is sure to be an option for everyone. To make the logistics a little bit easier on your big day out on the town, leave the details up to the professionals! With your own Detroit party bus rented out for the day, you'll be able to enjoy the comforts of a luxurious party bus and won't have to worry about getting yourself around the city for the day!
If you are looking for something to do this spring in Detroit, it can be hard to know where to start. Detroit has plenty of activities and attractions to offer from concerts and plays to new bars and restaurants! To get started on some fun options for you and your group, here are a few suggestions that are made extra special when a party bus is involved!
If you haven't heard of fowling before, don't be alarmed! This awesome activity is fun for the whole family and is a great way to spend time with your group who you may not get to see all that often! Football bowling, properly termed fowling, is a combination of 2 classic American sports! With two sets of large pins across from each other, the objective of the game is to knock all the pins down using a football. If you have some un-athletic players in the group, don't worry – they also have beer! With your own detroitpartybuslimo.com for the group, you'll be able to move on to another place if you want to continue exploring the city after your fowling adventure is over!
A favorite of all Detroiters is heading into the city to see the Wings play. With the Red Wings playing the Tampa Bay Lightening on Friday March 24th at 7:30pm, this would be a great opportunity to head downtown for dinner and a game. To make your night go as smoothly as possible, your professional party bus driver will work with you to make sure you don't miss the first face off of the game, all the while allowing you to pre-game in the back!
To get your music fix this spring, check out Bon Jovi at the Joe Louis Arena on Wednesday March 29th at 8:30pm. With a party bus in Detroit rented out for the night, you'll be able to make the most of your weeknight adventure by taking advantage of your time on the highway to enjoy some of your favorite beverages! With the option to plug your phone or iPod into the bus' stereo system, you can all listen to your preconcert playlist before you head out for the night!
Request a free quote for a Detroit Party Bus by contacting Rochester Limos, Detroit's choice for party bus rentals.
Categories:
Party Bus Rental