Detroit Party Bus: Enjoy the Summer in Style
Enjoy the Summer in Style with a Detroit Party Bus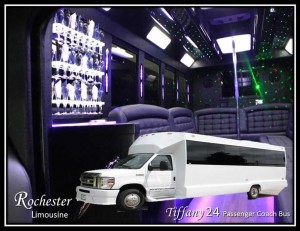 The cold weather seems to be breaking and you occasionally see those crazy people wearing shorts outside. Even though some Michiganders may be jumping the gun a bit, summer really is right around the corner. Within a couple months, people all around our great state will be biking, grilling, and chilling while enjoying the perfect summer weather. If you are looking forward to those days of summer and want to make them even more memorable, it's time to get going on your summer event plans!
Around the metro Detroit area there are always tons of things to do throughout the summer. From Tigers' games to pool days, and summer concerts to dinners out with friends and family, you may find yourself without enough time to do all the things on your list! If you are looking to head to downtown Detroit for any event this summer, there's really only one way to get there. With your own party bus for the day of your event, you'll be able to let someone else take care of the driving and focus on the party! Here are just a few reasons you need a party bus for your outing in the city this summer!
Leave the Driving to the Pros 
When you are planning to head downtown for the day or night with a group of friends and family, it can be hard to figure out who will be in charge of the driving. When you have your own party bus rented out, no one will have to take one for the team and volunteer to chauffeur for the day. Your party bus driver will be properly trained and licensed to get you to your destination safely, allowing everyone to sit back and have fun.
Room for the Whole Team
With a big group heading downtown together, the logistics of everyone's travel arrangements can be frustrating. With a professional metro Detroit party bus company, you can pick the perfect size bus for your group. Whether you have just a few people heading downtown to a concert, or you're organizing a Tigers' outing for your co-workers, there's a party bus to fit your crew! To make sure you get just the right bus for you, it's best to start planning as soon as possible!
Ride Around Town as You Wish
Your party bus will be yours for the amount of time you decide in advance so make sure to take advantage of it! Having a Detroit party bus for a nighttime concert downtown makes for a great opportunity to do a mini bar-crawl before the show. To help things go as planned, be sure to go over your itinerary with your chauffeur before heading off for the night!
Rochester Limousine is Southeast Michigan's Choice for a Detroit Party Bus Rental
Having your own Detroit party bus can really make your night out on the town one to remember. To learn more about getting your own Detroit party bus this summer, contact Rochester Limousine today for a free quote!  248.289.6665
Categories:
Detroit Party Bus Rental