Detroit Party Bus Benefits, No Matter the Occasion!
Detroit Party Bus Benefits, No Matter the Occasion!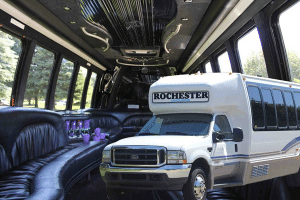 Spring is officially here and it's safe to come out and explore the town you may have hibernated from this past winter. While we still have a way to go before summer is in full swing, it's never too early to get the party started, is it? To make sure you have a great start to the spring and summer seasons, take the time to plan some outings with you and your friends!
From sporting events and shows, to plays and concerts, and even just heading out for a night to try some new bars and restaurants, there's never a shortage of things to do in Detroit. No matter what it is you want to do for the night, there is really only one way to get there: a party bus! With your own party bus for your special outing, you'll be able to explore the city in style! If you aren't familiar with how great having your own Detriot party bus is, here are just a few of the benefits!
A Detroit Party Bus Gives You Room for the Whole Crew
One of the best parts of having your own party bus is the fact that it allows you to fit your whole group into one automobile. Without this option, you'd be stuck getting multiple cabs, or even worse, you might have to drive! By keeping everyone together, you'll be able to enjoy the day and each other's company for the entire time you are out and about! With plenty of different sized buses to choose from, you're sure to be able to find just the right party bus for you and your group.
A Detroit Party Bus Gives You A Party in the Back
If you've never been in a party bus before, you may be a little unfamiliar with the term. Lucky for you it's just how it sounds! Picture a luxury limousine that you can fully stand up in, and you have yourself a Detroit party bus! As with a limousine, it's legal to drink while in the back of the party bus so you can get your party started as soon as you step inside. This makes a party bus perfect for a pregame before a concert or sporting event!
A Detroit Party Bus Gives You A Reliable Ride
With your own Detroit party bus rented out for the day, you'll have reliable transportation for the duration of your booking. If you have a set itinerary for how you would like to spend your time out on the town, great! Just give your driver the details and away you go. If you would prefer to take things as they come and aren't sure where you'd like to head after stop 1, that's fine too and your driver will be waiting to bring you wherever you'd like to go!
To learn more about getting your own party bus and to see what options are available, contact Rochester Limousine for a free quote on a Detroit Party Bus Rental.
Categories:
Detroit Party Bus Rental